Irene's Baby Journal – week 4.
Baby Journal – Baby Wipes
I've made our own baby wipes to clean her bottom! They're so much kinder to her skin and much more eco-friendly. I just took an old towel, cut it into small squares and sewed the edges with the sewing machine.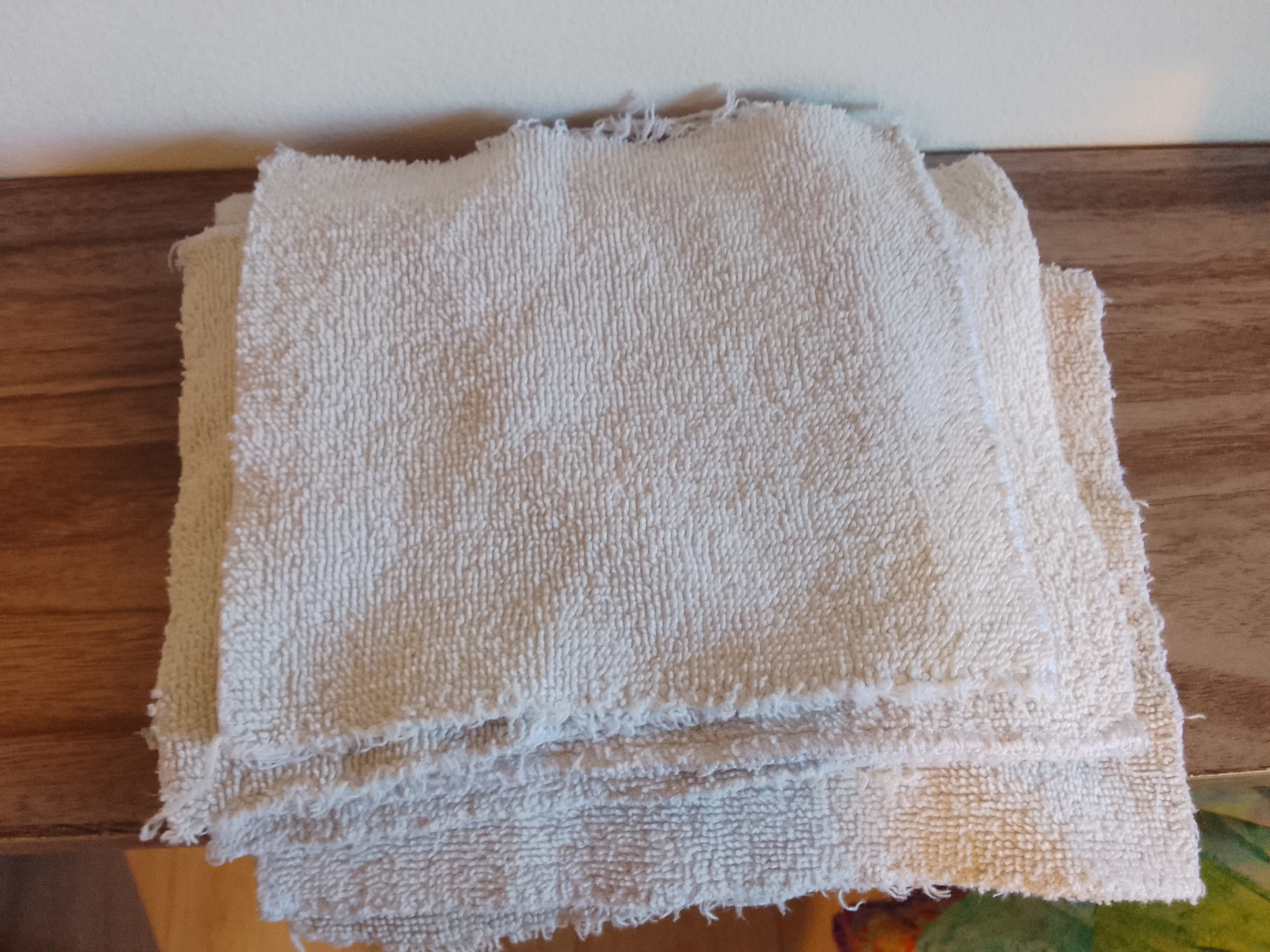 When I posted the photo of it on social media, a friend reminded me about elimination communication. I had heard about it a few years back but I had never practised it before and decided to try it out with Lúa.
Elimination communication is about learning a baby's elimination cues, removing her nappy and letting her 'go potty' on the toilet, the sink or in a container…
The toilet is what's working best for us so far. I sit on it with my legs open and Lúa sits on my lap with her bum in the hollow between my legs.
We're just doing it during the day for now and I forget many times but it's an amazing feeling when she does it! We have such a celebration when she pees –and an even bigger one when she poos – that I'm sure she'll get the hang of it quite soon.
Breastfeeding
Feeding is getting better and my nipples are not sore anymore. However, she still opens her mouth only a little. I've got a lot of milk and it pours out; sometimes she chokes on it. I guess she doesn't open her mouth wider because she doesn't need to. It was almost like putting a hose in her mouth.
I love breastfeeding.
Giving birth is absolutely amazing but it happens just once. Breastfeeding though… For me it's my favorite activity – feeling her suck, looking at her, feeling how much she enjoys it and how well she knows what she's doing. Breastfeeding is like a pump of oxytocin that just fills both of us with happiness.
Well, that's exactly what it is. A mother falls madly in love with her newborn baby to make sure the baby is well looked after and protected. That's what maternal love is all about.
Although this seems easy and basic, many mothers begin their motherhood from a very different place. They've experienced birth trauma or separation from their little one or they've had very little support, which makes these first few weeks extremely difficult.
This is never the mother's fault. Although society might make you feel this way, make sure you look for help if you're struggling to find happiness in this period of your life.
I'm 44 years old and I was so sure Tres was my last baby. Now that Lúa is here, I'm not so sure anymore. Jose, my husband, who is not breastfeeding and whose oxytocin levels are high but not as high as mine, is not very impressed with the idea. But we have time to work on it. I'm not planning on falling pregnant just now.
4-week old baby sleeping
I've co-slept with all my babies – from birth until they were a few years old. It's what humanity has done since the beginning of time and I cannot think of doing it differently. Babies are wired to sleep close to their mothers. Avoiding this is what's led to so much literature about a baby's sleep.
When you are co-sleeping, you tend to your baby's needs the moment they appear. That means mother and baby make the most of their nights. When the baby makes a little sound, the mother instantly wakes up. If she meets the baby's needs there and then, the baby will be asleep again within minutes.
When I last worked in a hospital, I remember how we had to discourage women who were co-sleeping with their babies.
It's awful what concerns about liability have done to us – to the point of recommending difficult behaviors that aren't natural.
As a midwife, I never discouraged women from doing what's best for them. I just told them a few safety rules for co-sleeping if that's what they chose to do.
Here are some of them:
Place baby on your side far from the bed edge. You can place a pillow on the other side of the baby or your partner. Be careful, as it's just the mother who is programmed to wake up at the baby's smallest sound. If your partner is a heavy sleeper, it's not a good idea that your baby sleeps next to him
Try to feed your baby lying down. That way baby will learn to do this on her own and in no time she'll feed with you hardly needing to wake up or move to feed her
Swap sides. Try to let your baby feed from both breasts at night. We were traveling when I had my second baby and we changed beds very frequently. My baby fed from my right boob at night and she stopped feeding from the left. We managed to breastfeed until she was four; however it's quite convenient to make the most out of two breasts!
Have a big bed! You don't need to spend big. You can place your mattress on the floor and add another mattress next to the main one. I find it works well – and it's safe – always to place your baby between you and a pillow, and for this you need space
Don't overdress your baby and don't cover her with a blanket. The baby will do everything possible to get rid of the extra layers. If your baby is kicking the blanket away, help her and remove it. Don't cover her up again once she's asleepNow we live in the Caribbean and the 'no blanket' thing is easy. When we lived in colder climates, we always had two separate pillows that we took to the edges of the bed and placed the baby high up on the bed between our heads. That way, even if you covered yourself with the blanket it would just be at waist height for your baby
This over-awareness of your baby's needs, while you sleep, might not happen if you're under the influence of alcohol or drugs. If this is the case, make sure the baby is in a safe place, like in a cot or on a separate mattress. That way you will have to wake up fully to tend to your baby when she needs you.
A 4-week-old baby still doesn't know very well the difference between day and night and you might be having some very long nights with a wide-awake baby. Co-sleeping would be my number 1 advice. That way, you can make the most of your nights.